by Judy Bowen & Debbie Chubback
PRICE: $5.00 + shipping
Introduce young kids to one of God's most amazing creations – bugs! This 36-page children's book focuses on bugs found in Africa and includes beautiful up-close photographs. Great for beginner readers.

by Judy Bowen & Debbie Chubback
PRICE: $5.00 + shipping
Young children will enjoy looking up close to the colourful African butterflies and moths found in this book. This 38-page soft cover book shows these beautiful creatures God has made. Great for beginner readers and great companion book to African Backyard Bug Safari.

by Yehia Sa'a

PRICE: $15.00 + shipping
Fully illustrated, this 304-page book presents the Bible's greatest themes. Starting with creation by a truly great God and progressing through the Scriptures, this book clearly and logically pulls together the prophets' teachings and leaves no doubt as to the significance of their message.

by Millie Crouch
PRICE: $4.00 + shipping
An autobiographical account presents a delightful picture of missions as Millie tells the often humorous, sometimes frustrating, but always rewarding effort of leading Filipinos to Christ.

by Kim Rosenau

PRICE: $5.00 + shipping
A 5-day series about a missionary kid who spends his summer in Bangladesh. This story presents a clear salvation message and exposes children to the 'firsts' of being a new culture and contains coloring and activity pages.

by Jeannie Lockerbie Stephenson
PRICE: $11.00 + shipping
Learn how single and married missionary workers learn to understand one another better, communicate more effectively, and build stronger personal and ministry relationships in the highly challenging atmosphere of international missions.

by Jeannie Lockerbie Stephenson
PRICE: $3.00 + shipping
Looking for a skit or short drama to give an international flavor to your missions conference, children's program, or women's meeting? Declare His Name will help meet that need. Includes six sketches of missionary heroes, three dramatic readings, two short dramas, and four plans for children.

by Eunice Faith Priddy
PRICE: $9.00 + shipping
Cadacapitulodestacaunamujer de la Biblia e incluyepreguntas. Un formatoexcelente para estudiobiblico individual o engrupo.

By Sarah A Lanier

PRICE: $10.00 + shipping
A Guide to Understanding Hot and Cold Climate Cultures-  this is a splendidly written, well researched work on cultures. Anyone traveling abroad should not leave home without this valuable resource! Sarah's love and sensitivity for people of all nations will touch your heart.

by Mel Cuthbert
PRICE: $12.00 + shipping
"This book is the captivating real-life story of God's work in the most dynamic mission field in the world, the human heart. Mel's story combines heart-crushing hurt and adrenaline-pumping hope as God shapes a man to be His fruitful servant…" -Pastor Deric Bartlett, Mississauga, ON

By Ivor & Ruth Greenslade
PRICE: $8.00 + shipping
A Canadian family's adventure along the Amazon — see how these missionary pioneers spread the love of Christ to a lost world through an exciting account of their work in Peru.

by Gil Thomas

PRICE: $15.00 + shipping
An evangelism and discipleship training narrative – It follows hard-working, dedicated missionaries who are contemplating leaving the field because of a lack of solid fruit. A last-gasp Bible study reveals a theology of evangelism and discipleship that inspires and equips them to continue to pursue their calling.

By Dick Buck

PRICE: $14.00 + shipping
Former journalist Dick Buck along with his wife Mavis served in urban missions church-planting in Brazil – ministering to people of all economic levels. A great account of real cross-cultural foreign mission work.

by Elsie Northrup Chaney & Jeannie Lockerbie
PRICE: $4.00 + shipping
This is a story of Elsie Northrup Chaney, who followed in the footsteps of Adoniram Judson to Burma, and of the Burmese Christian workers supported by ABWE's GAP ministry.

by Ruth Scheltema
PRICE: $12.00 + shipping
Ruth relates the exciting and sometimes hair-raising adventures of flying with her pilot-husband for more than 50 years as they pioneered an aviation ministry and put their lives on the line to stay "in the air for Him."

by Joan B Cole

PRICE: $5.00 + shipping
A 5-day series of a Filipino boy who meets missionaries at the hospital. This story presents a clear salvation message and promotes understanding of another culture and contains coloring and activity pages.

by Keith Kaynor
PRICE: $5.00 + shipping
The story of ABWE's medical work on the Amazon River is filled with personal stories of Brazilians — some who came to Christ — and tells of God's provision in missionaries' lives.

By Don & Helen Hare

PRICE: $4.00 + shipping
This is a true story for elementary-age children about a young Brazilian brother and sister who were taken from their mother and nearly transported to Europe. A lesson on God's protection and plan for them is revealed.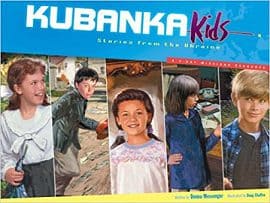 By Donna Messinger

PRICE: $15.00 + shipping
Based on real events, this resource features stories about kids in the small village of Kubanka, Ukraine, right after the fall of Communism. The book is laid out in a flip-chart format for easy group viewing. Full-color illustrations included.

by Kristen Stagg

PRICE: $5.00 + shipping
Missionary kids share a common bond as third culture kids. In MK2MK, adult missionary kids speak from the heart, sharing their personal experiences, their concerns, their joys, their disappointments, and their methods of fitting in with different cultures.

by Jeannie Lockerbie
PRICE: $3.00 + shipping
Jeannie – missionary, translator, nurse– tells the personal story of the chaos, confusion, and agony surrounding the birth of the nation. She relives her ordeal as an American in hostile hands and tells how God daily protected her. A fascinating record of daily life in the midst of war.

by David W. Schmidt

PRICE: $22.50 + shipping
The Role of Christian Zionism in the Foreign Policies of Britain and America in the 20th Century – This book asks: Would Israel have been founded in 1948 if not for British Christian Zionism? And, would Israel have survived since 1948 if not for American Christian Zionism?

by Marjory Miller
PRICE: $5.00 + shipping
Daughter of ABWE's first missionaries to China, Marjory grew up speaking two Chinese dialects before speaking English. Read of harrowing escapes from Japanese invaders and Communist insurgents, and God's protection and provision.

by Paul Schlener
PRICE: $13.00 + shipping
The astonishing story of how God led brothers Paul and John Schlener to a spot on the map named after them, how God spared their lives in incredible and amusing adventures, and how he used them to draw hundreds of indigenous people to Himself.

by Eunice Faith Priddy

PRICE: $9.00 + shipping
Des Femmes de la Bible – D'Eve à Eunice, d'Agar à Lydie, de bonsenmauvaisexemples, 50 femmes sontprésentées, leurs forces et leursfaiblessessoulignées, avec un intérêtparticulier pour l'oeuvre de Dieu et les manifestations de son amour dansleur vie.

by Peter Joran
PRICE: $10.00 + shipping
Making the Transition from Missions to Life at Home – What happens when you return from mission work? Will you begin to compare ordinary lives to your exhilarating experiences in missions? Re-Entry a practical and helpful book for every local church and mission agency who sends workers overseas.

by David A Livermore

PRICE: $12.00 + shipping
Short-term missions trips are a great way to impact the kingdom. Yet they can lack effectiveness because of mistakes or naivete on the part of participants. This book calls us to serve with our eyes open to global and cultural realities so we can become effective cross-cultural ministers.

by Mary Lou Brownell
PRICE: $10.00 + shipping
"Singlehearted portrays the passions of a new nation emerging from a bruising war – and the compassion of a dedicated nurse who cared for the people in many beautiful ways…"
—Viggo B. Olsen, author of Daktar/founder of Memorial Christian Hospital, Bangladesh

by Kimberly Rae
Stolen Series Book 2

PRICE: $15.00 + shipping
Asha returns to Asia with only one priority higher than reuniting with Mark and beginning a ministry rescuing trafficked women: first she must find her birth family and discover why they gave her up.

by Kimberly Rae
Stolen Series Book 3

PRICE: $15.00 + shipping
Ahmad has the perfect plan – the ultimate revenge would be to see Asha become a trafficked woman herself. If he succeeds, will Mark sacrifice everything even his integrity, to get her back?

by Kimberly Rae
Stolen Series Book 1

PRICE: $15.00 + shipping
Human trafficking…Asha knew nothing about it before meeting 16-year-old Rani, stolen from her home and sold into sexual slavery in Kolkata, India. Asha must help this girl escape; but Mark, a 3rd-generation missionary, keeps warning her away from the red-light district…

by Neal Pirolo

PRICE: $8.00 + shipping
As Neal Pirolo criss-crossed the US and several other countries conducting seminars, it became clear to him that re-entry care is not well understood. Grieved by the lack of care when a missionary returns home, he was motivated to provide the Church & missions community with this resource.

by John Cross

PRICE: $15.00 + shipping
This fully illustrated, 304-page book is written for adults and teens who know little or nothing about the Bible. It explains in a straightforward way the greatest themes of the Bible, step by step creating an understanding of sin, substitution and atonement.

by Wally Stephenson

PRICE: $10.00 + shipping
Wally Stephenson, who lost both his wife and daughter in a car accident, gives insight into and suggestions about coping and surviving tragedy. His experiences will renew your trust in the Lord's goodness and will help you, or a friend, move through tears to triumph.

by Harry Ambacher
PRICE: $15.00 + shipping
From 1965 to 1999, ABWE's ministry in Hong Kong grew from three small missionary churches to more than 30 vibrant churches with Chinese pastors. With riveting accounts of Mao Tse-tung's Cultural Revolution and the Beijing Massacre in Tiananmen Square, this book is a must read.

by Lincoln D Nelson, M.D
PRICE: $5.00 + shipping
Surgeon Link Nelson and his wife Lenore went to the Philippines to bring physical and spiritual healing. As their medical skills won souls to Christ, the Nelson family also experienced numerous adventures. The Nelsons established the Bethel Baptist Hospital and helped open two other mission hospitals.

by Paul Schlener
PRICE: $13.00 + shipping
World War II veteran, Paul Schlener, tells his story of living through one of the most terrifying typhoons in naval history. Read how it changed his life forever and lead him to a life of missions. This is a prequel to Port of Two Brothers.