Who is ABWE Canada?
Across Borders for World Evangelism is a missions agency who combined with our US counterpart, has more than 94 years of experience helping missionaries start relevant, effective, creative & adaptable ministries in more than 84 countries.
We are PASSIONATE ABOUT JESUS
Our mission: Assisting Canadian churches to achieve their local & international mission objectives.
Our vision: To be a global family of ministries that exists to fulfill the Great Commission by multiplying leaders, churches, and missions movements among every people.
ABWE Canada is centred on Jesus and making Him known around the world. We want to see communities of Christ followers worship God, serve others, and grow together, but we do not want to stop there. We desire that these local churches would spawn a global missions movement where local believers are discipled and trained and churches are planted that want to see Christ's message of redemption continually shared.
We are EXPERIENCED
With more than nine decades of sharing the good news of Jesus in more than 84 countries, ABWE Canada stands firm in conservative baptistic theology while remaining rooted in the belief that all missions is centred in the local church.  However, we know that God continues to open new avenues of sharing His good news with others all the time. Therefore, our desire is to be flexible and adaptable so when we see God work, we can join with Him.
WE ARE MAKING A DIFFERENCE at ABWE Canada
THEOLOGY
100+ Bible-training programs minister to thousands of students around the world.
EVANGELISM
Each year, our 1000+ missionaries share the gospel with thousands of people in 84 countries.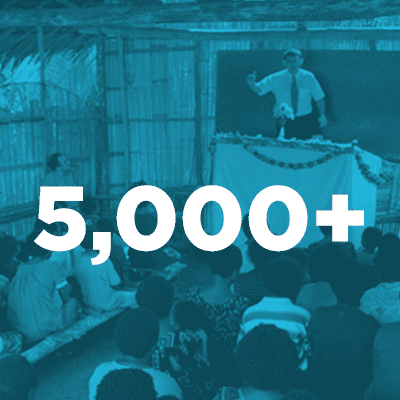 CHURCH PLANTING
5,000+ churches have been planted by ABWE and its nations partners, to date.
We Are SERVANTS
ABWE Canada understands that answering God's call and serving Him in culture is intimidating. Most people are concerned, have questions, and are overwhelmed by the paperwork that is involved so we try to lessen your concerns, answer your questions, and make the paperwork easier.
We are here to serve the local sending churches and the individuals they have sent out. ABWE Canada's goal is to combine your God-given talents with the talents of others to make an impact on those in need.
We want to create a strong bond between the mission organization, your sending church, and you so that you are properly supported and equipped to serve God overseas in a culturally relevant, theologically sound, creative, and effective way.
We Are STEWARDS
ABWE Canada knows that individuals have sacrificially entrusted us with their financial resources to see the Great Commission carried out across the globe. Our desire is to be good stewards of those financial resources and see that they are used for the greatest benefit of global missions.
Therefore, we are certified by the Canadian Council of Christian Charities. An agency dedicated to helping Christian ministries earn and maintain the public's trust through responsible stewardship. This agency helps us maintain multiple checks and balances in our fiscal responsibility.
ABWE Canada – WE NEED YOU
Each year more than 3000 churches & 20,000 individuals in North America sacrificially give to support our missionaries, ministries & projects. This includes 1,000 Canadians and 400 like-minded churches.