In July 2020, a month after we moved to Serbia, we got a phone call from the city of Nis, South Serbia. It was a nice surprise to hear the familiar voice of the man we knew for many years. After a time of catching up, he asked Jan if he would consider coming to Nis to be their pastor. Jan was honoured with this offer, but respectfully Jan had to decline this call, giving the friend a brief overview of the vision for serving in Serbia. Our primary ministry is to do Street Literature Evangelism and to assist small Churches by serving them with preaching. We promised this friend that we would be doing Street Literature Evangelism in the city of Nis when we could fit it into our schedule, and would preach in the church, but not serve as pastor.
This sounded like a Macedonian call to us. Since that time, we have been there several times with Bibles and literature, and always had great support from the church. We have seen the first results from Street Evangelism in this southern city.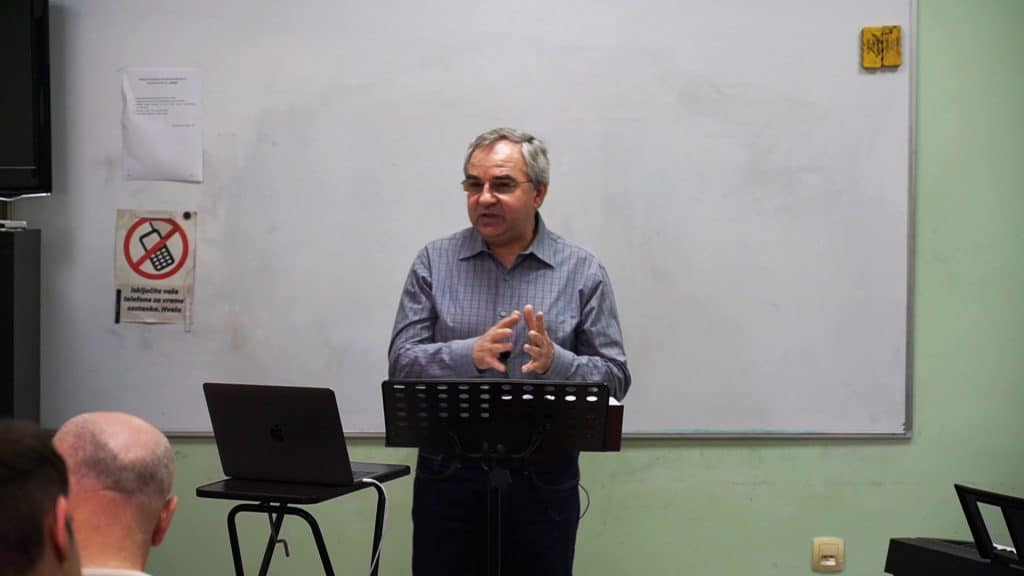 This experience led us to visit Nis even more often. Since last summer, we go there once a month, and recently even twice a month. It was precious for us to meet with those who showed interest in the Bible and knowing more from it. We are joining these contacts from the Street Evangelism times for lunch or dinner to get to know them. Some lunches and dinners last long, like several hours. Discipleship is not an easy task either. Sometimes conversations are going smoothly, and sometimes we feel like going two steps forward, one step back.
Our last visit to the city of Nis was unique. On Saturday afternoon we had a great time sharing the Gospel with a young man, hoping he would come to church on Sunday, as he did each previous time, but we were disappointed when he did not appear at the Church.
Jan served communion and we saw the Lord in his marvelous work. For the first time, we saw several Russian families in this Church, and one Ukrainian lady translated the sermon into the Russian language. All of them were Christians, escaping from their countries, not wanting to be involved in the war. Serbia is one of the few countries open to Russian people, and many of those who do not want to be recruited to the war come to Serbia. As we were serving the symbols of God's grace, we were reminded of apostle Paul's words from Gal 3:28 "There is neither Jew nor Gentile, (neither Ukrainian nor Russian) …. for you are all one in Christ Jesus."
The Lord is showing us a great spiritual need in the city of Nis and the surrounding area. Please, pray for this Church, that they can find a pastor, willing to move there and serve at full capacity. The Lord is bringing people to their door, and someone needs to be available for them on daily bases. Our prayer for this Church is, that it will become the new Antioch in Serbia; sending and caring for those who will work in the surrounding cities.
Pray for us, as we travel from city to city, that the Lord will bring the seeking people to our literature stand. In this part of Serbia many cities and towns are without a single evangelical church. Our goal is to build spiritual bridges to those cities so that the Gospel can be preached to the people who need the Lord.